No holistic approach to wellness and healing would be complete without a place for the expression of your spirit and heart. Creative Expressions is your outlet to express your feelings through poetry, stories, pictures, mantras, songs or something more creative.


---
The creative arts can be healing for the simple act of creation can influence brain wave patterns and the chemicals released by the brain that induce a sense of well-being. It provides a way to express unspoken or hidden emotions and unconscious concerns about your diagnosis and treatment and how it may affect your everyday existence. Creative art can help us to come to terms with these emotions thereby reducing the stress, fear, and anxiety. At the same time it can also provide a sense of control as well as a sense of freedom.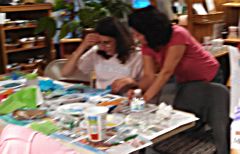 Patients, survivors, caregivers, family and friends participate in our June 23, 2016 program
'Nourish' - Creating Mixed Media Art with Artist Karen Reid

PinkHippy.org hosts Creative Expression workshops for breast cancer patients, survivors and their families. Some of the workshops include creative writing, focus boards, art, and music & movement.
For a list of upcoming programs please visit our listing of Events