Comfort Care Accessories are available at the following locations:
Saint Vincent Cancer and Wellness Center in Worcester, MA

Dana-Farber/Brigham and Women's Cancer Center in Milford, MA

Cancer Center at Harrington Hospital in Southbridge, MA
All Comfort Care items are available directly through PinkHippy.org. For more information, or to obtain Comfort Care Accessories, please send us an email or call 508-304-3463.

If you are interested in helping with the Comfort Pillow Sets, Knitted Knockers, or other compfort items please contact us at info@pinkhippy.org.

Ways you can help
cutting, stuffing, sewing, assembling, or cheering other volunteers on during sew-a-thons

knitting or crocheting hats, shawls, blankets, and knitted knockers

delivering comfort items
Please consider a gift to PinkHippy.org
---
PinkHippy.org is a 501(c)(3) nonprofit charitable organization

---
COMFORT CARE ACCESSORIES
are provided at no charge to those who need them

---
Comfort Pillow Sets – a set of three pillows made from soft cotton flannel and stuffed with light and fluffy fiberfil. There is a small and medium size rectangular pillow and a larger heart shaped pillow - each is designed to bring comfort following surgery and throughout treatment. Pillows are packaged in a handmade tote bag - all are machine washable and dryable.

Tips from patients who have used our comfort pillows:

use the either rectangular pillow to hold the seatbelt away from your body when you are in the car.

place a pillow between your arm and your body to relieve the pressure from swelling in your armpit that may occur following surgery or radiation

tuck them along the length of one side of your back for a comfortable reclining position

use the heart-shaped pillow to cradle your chemotherapy port for comfort when reclining

use the heart-shaped pillow to cradle your feeding tube for comfort
---
Chemo Shawls ~ Blankets ~ Hats – handmade using soft fibers for those in chemotherapy treatment.
---
| | |
| --- | --- |
| Skin Soothing Balm – This all natural balm is made with all natural and organic ingredients including Calendula and Aloe. The creamy texture spreads easily as it helps to ease the side effects from radiation. | SKIN SOOTHING BALM |
---
Knitted Knockers – These lightweight, soft and comfortable 'knockers' offer an alternative to traditional breast prosthetics. Made with soft cotton yarn they are available in a wide range of sizes and colors. Stuffed with soft fiberfill for everyday wear they may also be used for swimming by simply replacing the fiberfil with a shower scrungie. Whether you have had a lumpectomy or a mastectomy, Knitted Knockers are fully adjustable. They can be used to fill the gap for breasts that are uneven and are easily adapted for those going through reconstruction by simply removing some of the stuffing. Machine washable for ease of care.

PinkHippy.org is proud to be a provider of Knitted Knockers. To learn more visit their website at www.knittedknockers.org or watch this beautiful video about the woman behind Knitted Knockers.
---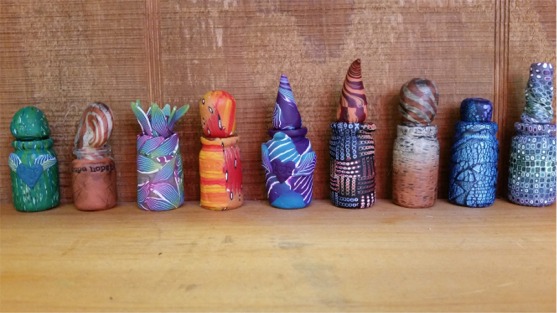 Bottles of Hope - These beautifully sculpted small glass bottles covered with polymer clay symbolize a wish and a hope for health.

The Bottles of Hope project was started in 1999 by a very special person, Diane Gregoire, a cancer survivor and polymer clay artist. Diane found a way to use her special talents as an artist to cheer up the lives of cancer patients going through the ordeal of chemotherapy. She used clay to decoratively cover small glass medicine bottles and gave them to other patients as a symbol of hope. Since that time the project has spread internationally and are made by artists, students, survivors, seniors and many more who volunteer their time and love. Please visit bottlesofhope.org for more information.
---