Please consider a gift to PinkHippy.org
---
PinkHippy.org is a
501(c)(3) nonprofit organization
registered in Massachusetts.
---

---
RECOMMENDED BOOKS
The books below have been recommended by people impacted by breast cancer who have found them to be helpful on many levels. They have not been submitted by publishing companies or distributors but by those individuals who themselves are breast cancer patients, survivors, family members or care givers. We encourage you to send us your recommendations and help us to build a listing that will help others.
---
Let Me Get This Off My Chest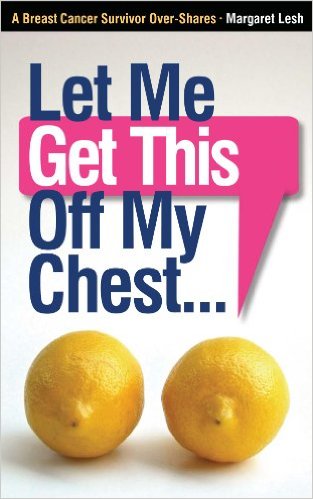 Tamoxifen hot flashes, mastectomy, reconstruction, breast cancer etiquette, Frankenboobs, bras with special attachments—Margaret Lesh shares all in her funny, heartfelt collection of essays, anecdotes, and life lessons from the perspective of a two-time breast cancer survivor. She'll tell you when it's okay to play the cancer card, what you should take to the hospital, and gives suggestions on how to cope in those dark moments of the soul. With practical tips sprinkled throughout, LET ME GET THIS OFF MY CHEST explores how breast cancer changed her outlook on life, offering honest insights, humor, and sensitivity as she looks for the silver lining in a not-so-great situation.
Whether you are a woman diagnosed with breast cancer or whether you know someone with breast cancer, this book was written for you.
- Margaret Lesh
ISBN: 0615812511
ISBN-13: 978-061512519
---
Uplift: Secrets from the Sisterhood of Breast Cancer Survivors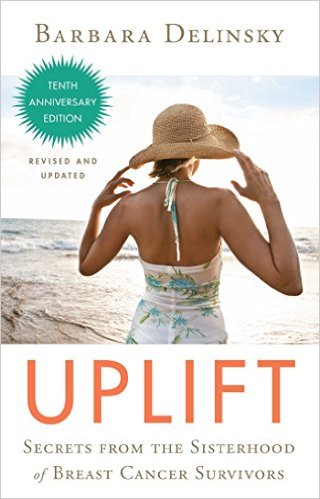 Think of this as "The Girlfriends' Guide" to breast cancer, with hints on everything from what kind of deodorant to use during radiation treatment to the best kinds of exercise after a mastectomy to how to tell the person you're most afraid to tell that you have cancer.
- Barbara Delinsky
ISBN: 978-0-7434-3136-1
ISBN; 978-1-4516-5467-7 (paperback)
ISBN: 978-0-7434-4005-9 (ebook)
---
The Breast Cancer Prevention and Recovery Diet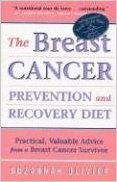 One woman in eight in the United States will get breast cancer at some time in her life. Nutrition is one vital way of preventing its occurrence and, if breast cancer is diagnosed, of helping the body to recover and thrive without recurrence. Suzannah Olivier, a qualified nutritionist and long-term survivor of breast cancer, reveals how eating the right foods can give you essential support by building the immune system, rebalancing hormones, and encouraging detoxification to keep the body well-nourished and in fighting form.
- Suzannah Olivier
ISBN 1-58054-327-8f
---
American Cancer Society Complete Guide to Nutrition for Cancer Survivors: Eating Well, Staying Well during and After Cancer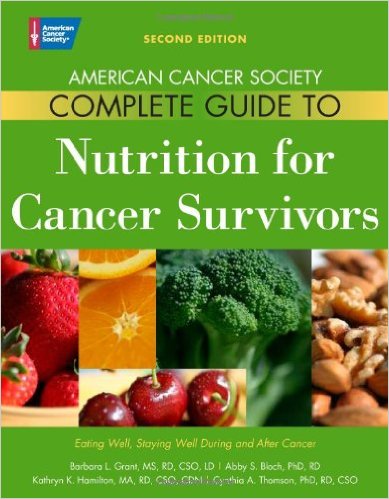 Written for consumers, patients, and families seeking reliable information about nutritional support for people with cancer, this comprehensive guide offers the latest information about using nutrition to optimal advantage during the cancer journey. Also discussed is the role of sound nutritional choices before, during, and after cancer therapy and how they can help bolster energy levels, strengthen the immune system, fight off infection, and minimize the side effects of treatment. Charts, information on special diets, and level-headed advice about dietary supplements make this a valuable tool for maintaining a healthy lifestyle.
- Barbara L. Grant, Abby S. Bloch, Kathryn K. Hamilton, Cynthia A. Thomson
ISBN 0-944235-78-6
---
Comprehensive Cancer Care: Integrating Alternative, Complementary, and Conventional Therapies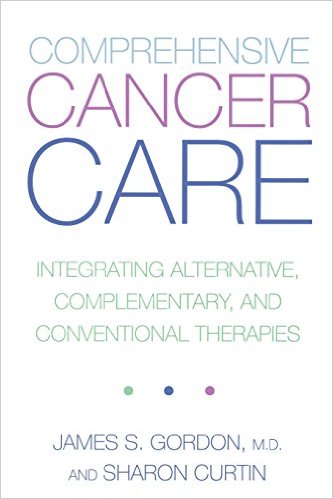 This book represents truly pioneering work. It brings much needed information about the best of new cancer treatments to those who need it most and it does so with compassion and an inspired bedside manner."-Dean Ornish, M.D.Drawing on the studies and critiques of many of the world's most gifted researchers and clinicians, this book scientifically explores the most promising complementary and alternative therapies-and sifts through the often frustrating and confusing barrage of information and misinformation about them-to provide readers with the direction and help they need to create an individualized cancer-care strategy. Comprehensive Cancer Care includes reports on the most accepted and researched complementary and alternative practices, empowering advice for patients with clear action steps for speaking to doctors, and critical discussion of cutting-edge interventions.
- James S. Gordon, M.D. and Sharon Curtin
ISBN 0-7382-0486-2
---
Yes You Can Say No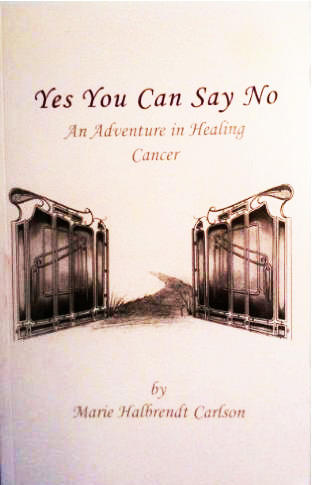 An Adventure in Healing Cancer
"Awesome book. If you are looking for an alternative to what the doctors think you should do...This is a riveting tale of one woman's journey with alternative medicine. (And she is still alive 20+ years after her cancer diagnosis)"
Review by Marta Nawn on August 3, 2014
- Marie Halbrendt Carlson
ISBN 0-9723939-0-0
This book may be ordered directly from the author at a significant savings:

Yes You Can Say No
Marie Carlson
PO Box 23
Jefferson, MA 01522